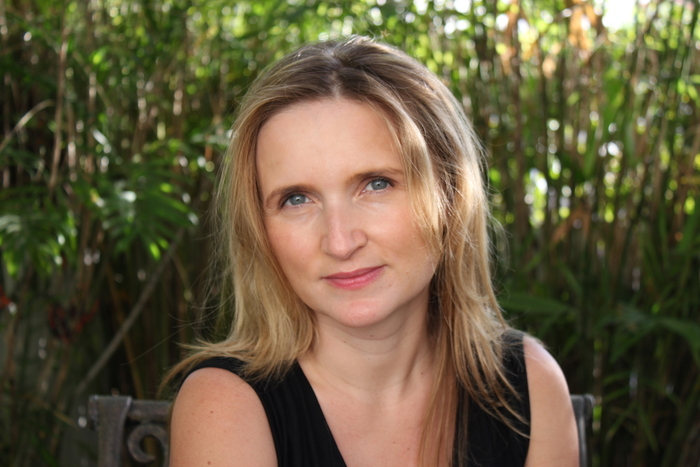 In this photo: Eleni Gage, Author of Lucky in Love, now available at theamm.org
"No couple who has been married for 50 years ever looks back on their wedding and talks about the table linens."
That's what Eleni Gage told us when we spoke to her about her new book, Lucky in Love: Traditions, Customs, and Rituals to Personalize Your Wedding. While there are hundreds of books that assist couples in the planning process of a wedding, this one aims to help with those magic elements that makes a ceremony meaningful.
And there's nobody better than Eleni to tell us about what makes a ceremony majical. We should probably start out by saying she's an AMM minister herself, but there's much more to her resume that made our jaws drop. In addition to holding positions at Allure, Elle, InStyle, People and Martha Stewart Weddings magazines, she's published dozens of articles and books on a wide variety of subjects, and speaks from a rich personal experience as well.
Lucky in Love collects folklore, beloved customs, and little-known traditions from around the world to provide the couple with tips that will not only contribute to a special wedding day, but also an entire lifetime of luck and happiness.
Eleni was inspired to write the book while she was Executive Editor at Martha Stewart Weddings magazine. "Every engaged couple I interviewed, met with, or edited a story about wanted the same thing: A meaningful, one-of-a-kind, deeply personal wedding." Although they wanted that unique, one-of-a-kind wedding, many didn't know how to go about it. She would see them get stressed out if the linens weren't exactly what they had imagined.
As a student of folklore and mythology in college, one of the first things she learned was that many cultural rituals were developed to ease the stress of life's transitions: birth, coming of age, marriage, death. "Change makes us nervous, and a ritual helps us feel as if we have some element of control over our fate," Eleni told us.
Eleni had already been researching folklore for 20 years when she decided to write Lucky in Love. Her research was a combination of hitting the library, interviewing everyone she knew, and traveling the globe. As a travel writer she made trips to Greece, Bora Bora, and Japan. While there she conducted research about local wedding customs.
According to Eleni, "Virtually every culture, religion, and community have devised rituals around weddings that are meant to imbue the marriage with good fortune."
It was very important to her to discover the meaning behind each symbol, food, or action that people found to be lucky. She said, "I didn't want this to be a collection of customs that other people do, something you read and say, 'isn't that interesting.' I wanted it to be an opportunity for connection, so that readers can understand and respect what is meaningful for other cultures and shape their own rituals accordingly."
Eleni's advice for couples that want to have a one-of-a-kind wedding is to fill it with details and actions that speak to them on a truthful level. Eleni would never suggest a couple have a Navajo wedding ceremony unless one of them is a Navajo. But if the Navajo tradition of holding the ceremony facing East (the direction associated with the future) strikes the couple as meaningful, they should incorporate the idea into their own wedding.
Eleni wrote the book to be a resource for couples. With the book they can not only learn about the rituals, but also the guiding principles behind them. With this knowledge they can create a ceremony, party, or even whole day that reflects the life they plan to build together.
"Especially now, when so many couples are out of touch with their own culture or religion, or are blending cultures, it can be difficult for newlyweds to be to picture the kind of ceremony they want, or to imagine one that expresses the most important aspects of who they are."
Eleni, who comes from a Greek family, incorporated an old Greek custom into her own wedding, which took place on the Greek island of Corfu. Three nights before the wedding they held a "making-of-the-bed" ceremony. This Greek custom involves the unmarried girls making up the bed the couple is going to spend sleep in on their the wedding night. According to custom, whoever gets the final pillowcase on is said to be next to marry. Afterward, the couple's relatives and friends scatter coins, Jordan almonds, and rose petals on top. Lastly, kids bounce on the bed in order to invite babies into the marriage. A couple might have a girl jump on the bed first if you want a baby girl, or a boy if you hope for a son.
Eleni told us, "I thought this was a fairly obscure Greek custom, but while researching the book I realized that the same ritual takes place in China, where it's called the Au Chuang, only there, the sheets are red, which is an auspicious color in East Asia, and instead of rose petals and Jordan almonds, it's lucky fruit and red envelopes filled with cash gifts that are scattered on the bed before children bounce on it."
The discovery highlighted what Eleni loves most about folklore. "Every ritual is so culturally specific, but they're all based on the same underlying ideas. Writing this book made me realize that we all want the same things: To be able to offer hospitality. For our children to be happy. For future generations to continue, and, of course, love, luck, and happiness."
If there is one chapter in Lucky in Love that every AMM minister should read, it is the chapter on mastering the ceremony. Eleni outlines the six different elements that make up wedding ceremonies in most cultures:
1. A processional or pre-wedding parade
2. Unity ritual
3. Transition ritual
4. Promise ritual
5. A legally binding contract
6. A recessional
In closing, Eleni said, "Looking at weddings all over the world made me see these common threads; couples designing their own ceremonies can choose to incorporate some or all of these into their own day. There are so many beautiful, meaningful customs to choose from that fulfill each category."
If you are a minister planning a ceremony, or looking to buy a meaningful gift for the couple as they plan their wedding, be sure to order this essential resource: Lucky in Love.
Content Resource:
https://theamm.org/articles/78-lucky-in-lo...
Posted By: Elynor Moss
Friday, February 21st 2020 at 8:56AM
You can also
click here to view all posts by this author...