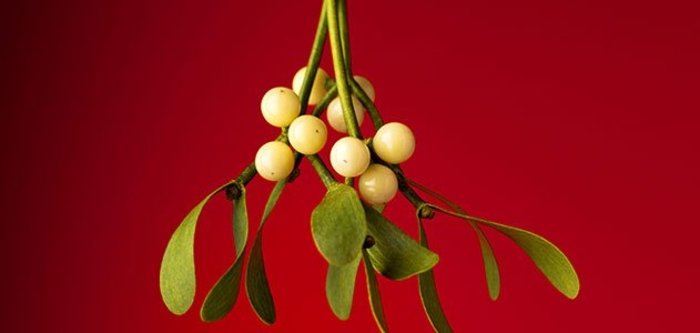 Origin of the tradition.
As far as traditions go, nobody actually knows where and when it originated. But people have various theories and believes which is linked to the mistletoe tradition.
According to the Celtic Druids who live din the 1st century AD, this plant was a symbol of vivacity and hence is considered as a plant which increases life and fertility. The fact that it remains green while all other plants are covered with white snow and shed their leaves led this belief to be more prominent.
But the kissing under the mistletoe tradition is more prominently linked to the Norse mythology. According to legends, Baldur was killed by an enemy's arrow made out of the mistletoe plant. Seeing her son die, Goddess Frigg wept tears onto the arrow.
These tears somehow formed the white berries bringing Baldur back to life. Since these berried saved his son's life the Goddess blessed this plant to be the symbol of love and promised a kiss to anybody who passed beneath it.
The old tradition of kissing a girl under the mistletoe.
According to the earlier form of the tradition, a woman who is seen standing under the mistletoe will be kissed. But in the early days, kissing in public was very controversial, and besides it is really weird if a stranger walks up and kisses you for absolutely no reason. So to fulfill the tradition and at the same time look chivalrous the man would kiss the lady's hand who was standing under it.
How is the tradition performed now?
Mistletoe tradition has evolved through the ages and now instead of kissing strangers, couples kiss under it praying that their love is blessed by God and they live together happily.
Millions of Americans and Europeans hang a sprig of mistletoe on doorways during the festive season and now is a major part of the Christmas decoration. On Christmas eve they unite under the mistletoe and couples kiss to celebrate their love and happiness.
It is also seen as a part of the wedding decorations these days where married couples kiss under it before stepping into their life.
Though in reality the berries of the plant are highly toxic for humans, yet it is one of the most cherished plants due to the tradition it carries with it. So make sure this Christmas you do kiss your loved one under the beauty!
"Kiss me underneath the mistletoe, show me baby that you love me so oh-oh-oh"
by Varsha luthra
http://sarcasmlol.com/2016/12/28/wondered-couples-kiss-mistletoe/3/
Posted By: Elly Moss
Friday, December 7th 2018 at 8:52PM
You can also
click here to view all posts by this author...